The resources below are aimed to help and console people who are bereaved. Bethany Bereavement Support Group recommend you contact your local Bethany Group - see our "Local Contacts Page".
---

Prayer in Time Of Bereavement
Lord, you are close to the broken hearted
Be with me now in my grief and loneliness.
Give me the courage to face my loss and not to grieve in silence
Be with me as I struggle with many different and painful feelings.
Ease the hurt in my heart.
Encircle me in your love
Help me to believe that one day I will no longer have this deep sorrow
May I find comfort in sharing my grief,
With those who understand the strong bonds of love
Stay with me Lord, support me.
Help me to know that your power is at work within me as I deal with my grief.
Amen
---
When I am Gone
"When I am gone, release me. Let me go. You mustn't tie yourself to me with tears. Be happy that we had so many beautiful years. I gave to you my love; you can only guess how much you gave to me in happiness. I thank you for the love each of you has shown.
But now it's time I travelled on alone. So grieve a while for me, if grieve you must. Then let your grief be comforted by trust. It's only for a while that we must part, so bless the memories within your heart. I won't be far away, for life goes on.
So if you need me, call and I will come. Though you can't see or touch me, I'll be near. And if you listen with your heart, you'll hear all my love around you soft and clear.
And then, when you must come this way alone, I'll greet you with a smile and say "welcome home"!

---

The Grieving Journey CD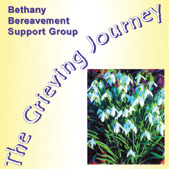 Personal stories, reflections, and practical suggestions for times of grief.
Order through GEC, contact details are on "Home" page.
---

The Bethany Journey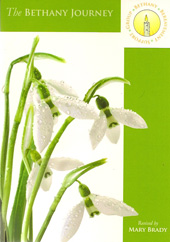 The Bethany Journey revised by Mary Brady
Order through GEC, contact details are on "Home" page.

---

Time without You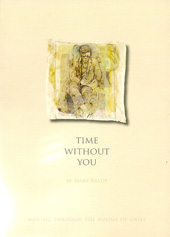 Time without You by Mary Brady
Moving through the rooms of Grief
Order through GEC, contact details are on "Home" page.
---

Bereavement Prayer Booklets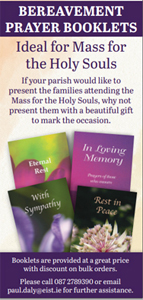 Paul Daly from Éist will be well known to many members as he would normally be present at our AGM and have a wide variety of bereavement related resources and materials available for sale. Paul can be contacted directly on 087 2789390or at paul.daly@eist.ie if you need any assistance in sourcing this material.



---

Recommended reading for the bereaved
"A Grief Observed" by C.S. Lewis,Faber 1996

" On Death and Dying" by Kubler- Ross E.,London 1969.

" Life After Loss" by C. Kenneally. Mercier Press 1999.

" Surviving Grief and Learning to live again" by Cecily Saunders

" The Courage to Grieve" by Judy Tatelbaum. Vermilion 1983.

" The Unwanted Gift of Grief", by VanDuivendyk T. Haworth 2006
"Living after a Death" by Mary-Paula Walsh.

"Time without you" a book by one of our members - Mary Brady and which can be purchased by calling Bethany Mobile: 087 - 9905299.

---